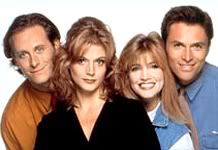 (From Left to Right) Steven Weber (Brian Hackett), Farrah Forke (Alex Lambert), Crystal Bernard (Helen Chappel), Tim Daly (Joe Hackett). From the 1993-1994 season.
I recently finished my third Wings tribute, this one to the ever-so-feisty, firey but sweet Texan, Helen Chappel (played by Crystal Bernard). My Helen tribute began life about the same time my Joe and Brian Hackett tribute was started, but I put both on hold due to time constraints - that was the summer of 2008. In January 2009, I finally completed my Joe/Brian tribute (itself a sequel to my Joe and Helen tribute from June 2008), but left the Helen tribute on hold longer than I would have liked. I occassionally picked it up to work on it, keeping the files uploaded to my computer, going through music, and figuring that I would eventually finish the project.
Finally, after months of seeing the files on my computer amongst projects I was starting and finishing in one sitting, I decided this Helen Chappel tribute needed to get a much-deserved finishing. So, today I sat down and concentrated my energies on getting my project completed.
To watch the tribute (to the Paula Abdul song Forever Your Girl), click on the embeddable player below:
But wait, there's more - click on the embeddable player below to see my second tribute to Joe and Brian Hackett (Tim Daly and Steven Weber) to the Gloria Estefan song Bad Boy. The quality is slightly less - I have since perfected uploading higher quality video.
And the video that started it all....my Joe and Helen tribute, to the Tina Turner song Not Enough Romance: