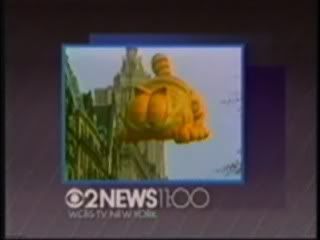 Garfield floats over New York City - since this aired the night before Thanksgiving, this was probably from the parade in 1987.
Can you believe we're now almost officially into the holiday season? Before you know it, it'll be 2010 and we'll be saying, "Wow, what happened to 2009?"
And before we get to the festivities of the holiday season, there is one night that has always had some sort of (however mundane) sentimental importance to me…Thanksgiving Eve.
Thanksgiving Eve was often a night of the networks foregoing regular programming in favor of major box office movies. A search through some of my old VHS tapes revealed a taping of Star Wars Episode IV from CBS in 1988. I know for a fact that this is not my tape (it wound up in my collection after my grandfather passed away and my dad was cleaning out his house), but it has many great Thanksgiving commercials on it, as well as promos for shows and specials airing on the network at the time.
Growing up, Thanksgiving Eve, much like the night of the start of Christmas break, always felt like a magical night. I guess it was the feeling of not having to go to school the next day. In college, my teachers often didn't hold classes on Wednesday in favor of allowing resident students to travel home for the weekend. I always took advantage of the days off during Thanksgiving break (and the time not spent at my video store job) to work on end-of-the-semester papers and projects.
In celebration of Thanksgiving, I'd like to share with you, my readers, some Thanksgiving fun with one of the things I'm thankful for…retro commercials and news!
Allison's Thanksgiving Eve Commercial Extravaganza!
I posted this compilation of specials, complete with a catchy theme song (which is really the Warner Bros. fanfare) on my You Tube channel last Thanksgiving Eve (November 26, 2008), 20 years after the commercials aired (original airdate - November 23, 1988).
Carvel's Tom the Turkey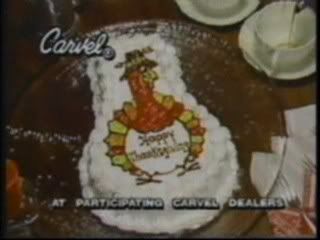 Here is another video I posted on my You Tube Channel last year (actually, on the same night as the Thanksgiving Eve Extravaganza), but this aired during another taped-from-basic-cable (WPIX Channel 11 in New York City) movie, an airing of Iron Eagle. This airing was right around Thanksgiving.
Maybe it's me (or the tape), but Carvel always had this unbelievably low-budget feel to its commercials. And having to listen to the grating voice of the late Tom Carvel is enough to send shivers down my mom's spine every time I break out a horrible impersonation of "I'm Tom Carvel!"
I was shopping at my local supermarket this past weekend, and I found a modern-day Tom the Turkey ice cream cake in the Carvel freezer near the bakery. My mom seems to have this "issue" with Carvel cakes, especially of the Cookie Puss and Fudgie the Whale variety, and apparently Tom the Turkey has the same effect, though its only a seasonal "issue." Don't ask…I don't. (Original Airdate - mid-November 1988 - exact date unknown).
And in the news on Wednesday, November 23, 1988...
A video of Michele Marsh and Mike Schneider, both formerly of WCBS, Channel 2, in New York City - those of us who grew up watching New York City-area television in the 1980s and 1990s will remember them…
And that's it - that's my claim to fame this Thanksgiving holiday (well, Thanksgiving Eve). Here's to a happy, healthy, and safe Thanksgiving, and all the best the upcoming holiday season has to offer. However it is you remember Thanksgiving Eves as a kid, may they always hold a place in your heart the way mine always have.
HAPPY THANKSGIVING!!!!