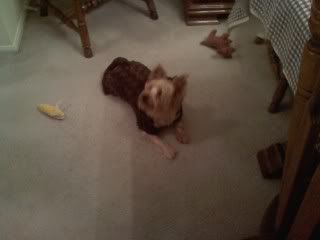 He's a funky monkey...did I mention he's Yorkie and he really doesn't like that costume?
Well, it's upon us, folks, and depending on where you live, Halloween is probably almost over (it's 11:15 pm as I write this - 45 minutes to go). Did you have a nice Halloween? Whether you were handing out candy at home, at a costume party, or working, chances are Halloween influenced at least some part of your day. I started mine off by watching the great MacGyver episode "The Secret of Parker House," and tonight I handed out candy to the little kids parading around my neighborhood. Since I live in a condo/townhouse community, there are strict times as to when kids can trick-or-treat - 6 pm to 8 pm...that's it. By 7:40, no one was coming down my way, so with an almost-empty bowl of candy, we closed the door for the evening. Knowing me, I'll probably end it with the Wings episode "Gift of Life," which sounds like a ploy to donate organs but actually has one of those surprise endings you'll never see coming. I know I didn't, and I'm sure I saw it back in 1996.
I'm now sitting on my bed, watching Game 3 of the World Series (Go Yankees!), and enjoying the last 45 minutes of Halloween fun. I actually cannot believe tomorrow is November 1 - where the hell did 2009 go? It actually broke the sound barrier - that's how fast it was going.
So, for the truly priviledged, I'm going to post another Halloween commercial (ironcally, it's the only other one I found in my collection) for your consideration. I promise, I have MANY Christmas commercials, some of which haven't even seen the light of day yet, and when I say "light of day," I mean You Tube (my You Tube channel, not everyone else's channels).
This commercial is for Dunkin' Donuts, and aired in October 2000 (a quick check of the original source says October 21, 2000). Much in the fashion of the commercial that is airing today, a hapless adult with a questionable costume choice (in this version, the adult is a lobster) just wants a sweet, sweet Munchkin. Of course, some kid (dressed as a fairy) is watching Hapless Victim Adult Lobster Craws try to grab a Munchkin from the box, going as far as to dump the box in his mouth. This commercial even has that same song that plays in the current commercial (I think it goes, All ghosts and goblins, such a scary sight!).
If you're feeling truly nostalgic for something from the beginning of the decade, feel free to click on the embeddable player to watch the 2000 version of the Dunkin' Donuts Halloween Munchkins commercial. At least in this version, the Fairy Girl just stares at him, unlike the current Pirate Girl, who informs the Headless Guest that their costume was "not a good choice."
Well, that about does it for Halloween 2009, and the beginning of the fall holiday season. Next up, that crazy little holiday featuring pilgrims, Native Americans, and a pardoned turkey...it's the holiday better known as Thanksgiving. Should be fun!
Thanks for visiting, as always, and...
Happy Halloween!