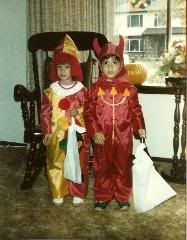 A little Halloween flashback, in honor of 1985, the year this special aired...
That's me on the left, a cute little clown, next to my brother, the perfect devil. We were 3 years old.
There was a time that networks dished out new holiday and non-holiday cartoon specials on a regular basis. Then, networks decided to do away with the animated specials format in favor of maintaining their regular prime time programming.
Let's have a moment of silence for those long-gone days.
Now that we have observed that moment of silence for our long-gone animated specials, let's relish in what we still have.
While producing new specials isn't exactly the dime-a-dozen affair it was roughly fifteen to twenty years ago, the best tried-and-true ones still find their way to the airwaves. However, there are some fantastic specials that do not make it to the airwaves, at least not the ones that the "Big" Networks (there's five of those now, right? I tend to lose track every time one of the offshoot networks merge or separate) control.
Take, for instance, the Garfield specials. Garfield took to the primetime airwaves at least once every year between 1982 and 1991, even when there wasn't a holiday to celebrate. In the early 1990s, however, animated specials were phased out for the regular prime time programming they often pre-empted. It seems that now, if an animated special will ever be shown in prime time, it's around a holiday, and never any other time of the year in a non-holiday themed special.
Garfield's Halloween Adventure was a Garfield special from the "middle years" of Garfield's prime time forays, this one airing in 1985. By this point, Garfield's animation began to have the familiar look from the Saturday morning series Garfield and Friends, which began several years later. Like all the specials before it, this one also aired on CBS.
So, without further ado, I proudly present a Halloween recap of Garfield's Halloween Adventure!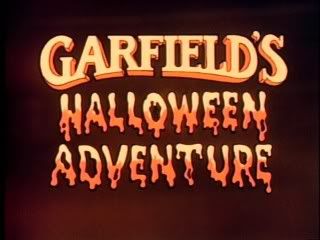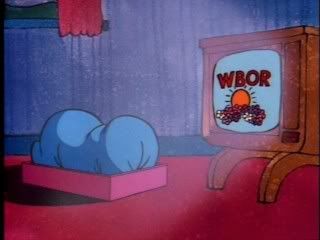 Part 1 of Garfield's Halloween Adventure
The special begins with the typical footage of the street Garfield lives on with his owner, Jon Arbuckle. It's early in the morning, judging by the colors used in this scene. We then pan over to the window looking into Jon Arbuckle's living room. The TV is on, presuming that it was left on overnight. And in front of the TV, huddled under his blue blanket, is the fat cat himself.
The network that was left on, WBOR (oh, I get it - boring! Haha…what? You didn't find that funny? Nevermind…), begins its morning programming…Binky the Clown.
Surely if you've seen enough Garfield over the years, you're familiar with Binky. He's like the Buddy Bears (remember them? "We are the Buddy Bears, we always get along…"), but louder and more capable of shattering your ears and making the desire to hit yourself on the head with a hammer more likely. He's also kind of a more demented cross between Bozo the Clown and Krusty the Clown. Binky greets us with his usual overly annoying greeting: "Heeeeeeeeeeeeeeeyyyyyyyyy, kids!"
This, of course, scares the living hell out of Garfield, and he is jarred awake, which proves that if nothing other than lasagna can wake Garfield up, Binky comes in at a close second. Binky proceeds to tell his child viewers to get up and exercise by doing many jumping jacks - after all, if you don't exercise with Binky, you're going to grow up to be worthless (really?!). After all, he says, you want to be in good shape for tonight so you can get lots of….CANDY!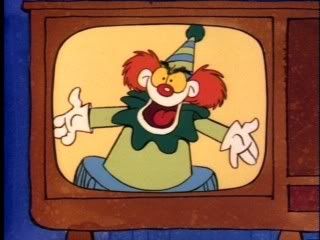 Garfield, feeling his can simply get his revenge on Binky by turning off the television, does just that. He relishes the moment…until he realizes Binky says he can get CANDY. It's at that moment that he can't get back to watching Binky fast enough. He quickly tunes back to Binky to hear what it is he means by free candy. Binky explains in his ear-shattering tone that tonight is Halloween. Garfield knows that if there's candy involved, he must partake.
Cue one of those great Lou Rawls theme songs that Garfield specials always had. Of course, this one is plenty catchy (my favorite is still the Thanksgiving one, but that's a story for another time…like, next month). How catchy, you may ask? Click below on the embedded You Tube player to hear it.
The credits and catchy song end, and Garfield excitedly talks about how Halloween is his kind of holiday - after all, no pine needles in his paws, no dumb bunnies, no fireworks, no dumb relatives…just candy! And then he goes back to sleep.
When he wakes up, he starts to plan what he needs for trick-or-treating.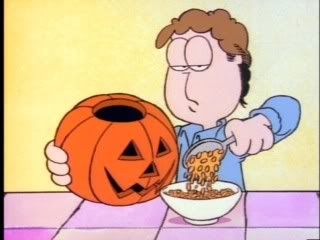 In the kitchen, Jon is gutting a Jack-o-Lantern, and Garfield scares him, so Jon winds up wearing the Jack-o-Lantern on his head. Jon wonders how he could possibly be mad at Garfield for scaring him. He then explains what he is doing with the pumpkin, when Odie walks in. Jon goes to take off the Jack-o-Lantern, and it prompty winds up on Odie's head. Poor Odie!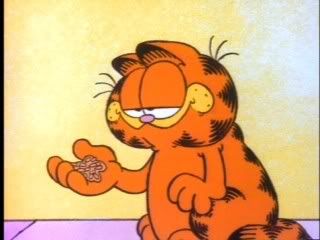 Garfield then spies pumpkin innards in a bowl, and decides they are of the "lasagna persuasion," so he eats them….much to his disgust. He promptly spits them out. Jon gives him a nice breakfast, but Garfield turns it down in lieu of saving room for candy…but then takes a sweet roll to tide him over and walks away…then returns a second later for bacon and a croissant, only to walk away again…and then he returns and decides he'll take everything else on the tray, and is gone. I should mention that each time he enters and exits, a jazzy tune plays.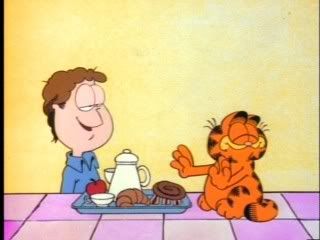 Odie is drinking from his water bowl, still wearing the Jack-o-Lantern on his head, and under this scene we hear Odie's trumpet fanfare. I always found it humorous that Odie had his own little fanfare everytime he entered a room or the scene. Garfield, wearing his blue blanket over his head, sneaks up on the unsuspecting Odie (partly because of a lack of smarts, and partly because of the Jack-o-Lantern presumably blocking his view) and startles him. Garfield then reminds him, "I knew it was you all along, Odie. It's not nice to scare people."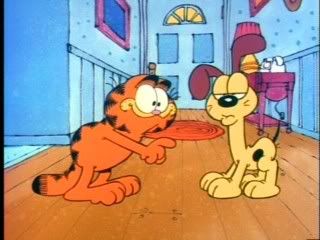 Garfield laments that Odie is so stupid, he needs to stand on a chair to raise his IQ (rimshot), and that's he's so ugly he doesn't need a mask for Halloween (another rimshot). Garfield realizes that if he takes Odie trick-or-treating, he'll get double the candy. So, he convinces Odie to go trick-or-treating with him, and says that he can have a whole piece of candy for his very own.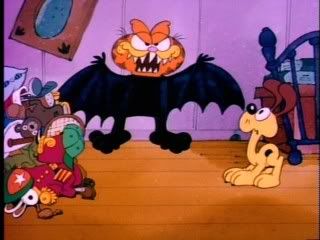 So, it's off to the attic for costumes! It's a good thing Jon never throws anything away. And old trunk reveals some choice clothes, and a song about how they could be anything they want to be (the song, for the curious, is called What Should I Be?).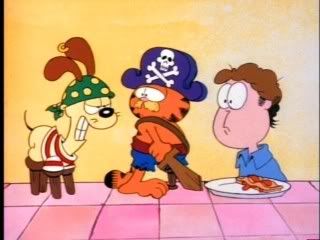 Jon is eating lasagna, and Garfield arrives in a pirate costume and claims the lasagna. Odie then hobbles in as his "first mate," "Odie the Stupid." Odie has one too many peg legs working for him. Jon says they look rediculous, but Garfield says he's killed for less than that, but he can't kill Jon, seeing as he's the only one who changes his kitty litter. With candy sacks in hand, Garfield and Odie are then off on their trick-or-treating adventures (but of course, not before taking the rest of Jon's lasagna - it's not like Garfield won't be able to eat all of that candy).
Part 2 of Garfield's Halloween Adventure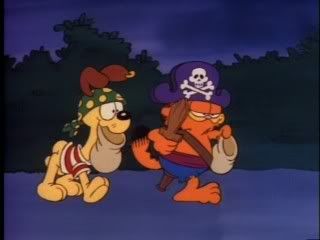 As they leave the house, Garfield begins to sing a pirate song, and then Lou Rawls chimes in with a song about "not being a scaredy cat"). At least, Garfield feels that way until he lifts a sheet off a child dressed as a ghost…and nothing is underneath! That scares Garfield and Odie off! Another kid dressed like some kind of a demented looking monk scares them as well (the mask and the kid's face are the same). There's that ghost again!
The song ends, and the boys arrive at the first house. An unseen woman generously gives them candy (she's stingy until Garfield says her drapes will get destroyed). Plenty more stops gives them lots of candy. Contemplating going home, Garfield then sees houses across the river, and decides he must have more candy.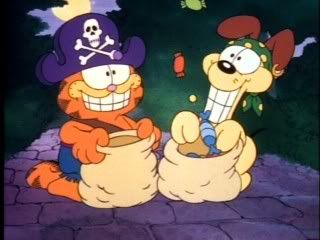 Garfield and Odie then commandeer a rowboat (in the name of Orangebeard the Pirate), and sail it to those houses. The scene fades to black, presumably to a commercial break.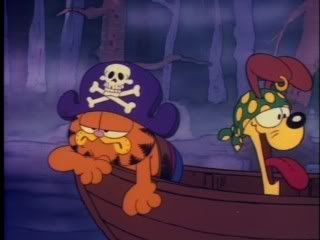 At fade in, Garfield is in the boat, and he's not looking so happy. Convinced he will never be heard from again, he says he will give up this pirate stuff if he makes it back to shore. But alas, a house is in sight!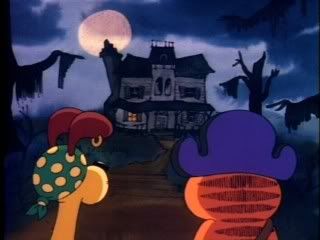 It's a little spooky (Garfield thinks it's a nice touch). They (well, Garfield) decide to investigate - Garfield will kick the door open, Odie will scan the place. Since it's empty, there shouldn't be any problems, right?
The two decide to warm themselves by the fire…until an old scary man terrifies them. The scary old man decides to tell them a never-before-told story.
Oh, goodie! A story…a never-before-told story that I've never-before-heard. Yeah, that made sense. Let's hear a story!!!!
Part 3 - Garfield's Halloween Adventure
100 years ago tonight, a ruthless band of pirates holed up in this very house. They had looted many ships and were pursued by government troops. They were so heavily laden with their ill-gotten gains, they had to bury their treasure before making their escape. However, before they left the island, they signed a contract, written in blood. They vowed to return for the treasure 100 years from then on Halloween night (oh, so they vowed to return in 1985, huh? That's convenient!) at the stroke of midnight, even if it meant returning from the grave (insert convenient thunder clap).
Garfield isn't buying it. Why should he? The man implores the feline and canine duo to believe, because he was a 10-year old cabin boy on the pirates' ship. Oh, so this man is 110 years old and that qualifies him to force us to believe a story that could very well be the product of a senile mind? Let's proceed and not think too much about it, as I tend to do…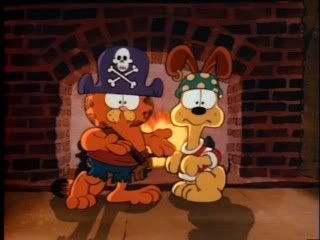 The pirates know they're in that house. Garfield's mind is made up so he decides to leave, and when he asks the guy if he wants to come…he's already gone. Garfield and Odie walk outside, and they see the man in their boat, rowing away! Garfield mourns for his lost candy.
At the stroke of midnight, Garfield has his doubts about the story…until he sees a ghost pirate ship and ghosts coming toward the house! So, I guess this story wasn't made up?
The ghosts begin doing a crazy dance (reminds me of some of the non-holiday Peanuts specials, which is not surprising given their connection via Film Roman), and then the treasure chest appears. Garfield and Odie, hidden inside a cabinet, are revealed when Odie sneezes and blows open the doors. The ghosts decide to come after them.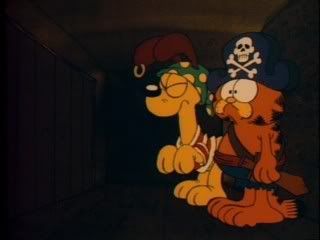 The two head to the dock and jump into the water, except Garfield forgot he can't swim. So Odie saves him, and Garfield is thankful - believe me, he'll find something to bitch and moan about regarding Odie soon enough, but we'll save that for another time. When they come ashore, they find their precious loot still sitting in the now-abandoned boat (named Carolyn). So, they shove off for home, loot in hands, with Garfield vowing to never come back this way again.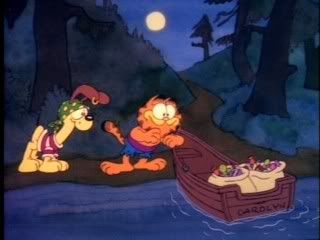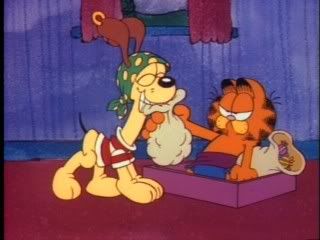 Back in the living room of Jon's house, Garfield decides to do something completely out of character…he lets Odie keep his share of the candy. And, since he's wired from all the sugar and perhaps the frightening evening he had, he decides to watch some television. Tonight's show…an all-night pirate movie festival…hosted by the old guy from the haunted house! Garfield decides he's tired and goes to sleep with Pookie and his candy.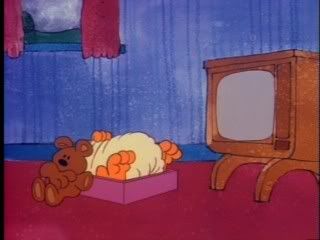 Roll those closing credits!
Well, how was that? It's a shame that Garfield specials are sort of hard to come by these days. Other than DVDs, Garfield doesn't get the same attention that a certain beagle and his owner get during the holiday season, at least not in more recent years. Hey, I'm not complaining - I'm a huge fan of Snoopy, but Garfield's holiday adventures hold up just as well.
For the interested, this special is contained on the DVD Garfield's Holiday Celebrations, which was released by 20th Century Fox Home Entertainment in 2004. It varies in price, but I bought my copy from Target in October 2007 for a mere $5.99 in the seasonal section of the store. Since I'm a bargain hunter when it comes to DVDs, that price is right up my alley. Garfield's Halloween Adventure is also triple-billed with Garfield's Thanksgiving and Garfield's Christmas. The DVD contains no extras, but it is a nice addition if you have a holiday DVD/VHS collection, as I do. If you're a Garfield fan, this is a nice collectible.
And thus we come to the end of my first Halloween-themed article. If you're feeling slightly nostalgic, then by all means, click on the links throughout the recap to see the entire special in order (it's not my videos - I was having trouble transferring the DVD to my computer, so I am choosing not to embed those videos). However, I have posted the great and very catchy opening theme, sung by the great Lou Rawls, as well as the closing credits with Garfield's pirate song, and these can be watched by clicking on the embeddable players below.
Enjoy! :-)