Merry Christmas!
As I write this, it is one hour (and counting) until Christmas Day. I just finished my first major "from scratch" baking project since Home Economics in seventh grade. The "experiment" was Chocolate Chip Shortbread, and it looks like it was a success. And it smells (and tastes) fantastic!
Many people have traditions on Christmas Eve much in the sense that many have Christmas Day traditions. For me, as a single gal living at home, the last two Christmas Eves have involved prepwork leading up to the next day - cooking, putting out the presents, 5:30 Church Mass. I think one of the things that I'm most grateful for (besides good health, which ranks highest on my list) is not having to go to Midnight Mass.
One of the other things I am most grateful for are Christmas specials - you know 'em, you love 'em, and if you're anything like me, you have your favorites.
There is one Christmas special in particular that crossed my path 23 years ago when it aired on ABC, but it has tended to be a treat of the rare kind (rare as in "it never airs on TV" rare). However, it seems to be well-known among mid and late twentysomethings around my age. The special is the 1986 Jim Henson presentation, The Christmas Toy.
The special, presented by Kraft Foods, premiered on December 6, 1986 on ABC, and since then has been a hard find on television. I only know of one other airing, and that was in 1996. There was a video release in the late 1990s (I believe 1998), which is now out of print, but is the only commercially-sold print that is in its original version. I say that because a DVD release from a few years ago edits out the introduction and closing of the special, which featured Kermit the Frog in a Santa suit.
For those of us who were truly lucky had parents who taped this on its original airing, and to have a working tape, this special is an even bigger deal.
Not to brag, but I'm one of those lucky kids. And I'm about to share it with all of you...
That's right! Here, on Allison's Written Words, you will get to see the ultra-rare complete, original airing of Jim Henson's The Christmas Toy. I'm excited to own this - it has been a Christmas tradition of mine for many years, and after twenty-three years, it still holds up very well.
The Christmas Toy is about a stuffed tiger named Rugby, who is the favorite "Christmas Toy" of his owner, a young girl named Jamie. When he finds out it is Christmas Eve, he becomes determined to keep his place as Jamie's favorite Christmas Toy by sneaking down to the Christmas tree and finding a box to get into so he can accomplish his goal.
When humans are not present in the play room, the toys come alive, a la Muppet Magic, and proceed to sing, dance, and "play." However, if a toy is caught out of place, it will become frozen...forever. So, when Rugby sneaks off in pursuit of his mission to become the favorite Christmas Toy once again, all the other toys become frantic and try to convince Rugby that his mission is dangerous, but he is determined. His displeasure at taking a back seat to a new favorite toy stirs up old feelings in Apple, a doll who remembers the previous year, when Rugby came into the play room and took over her spot as the favorite.
Can the toys stop Rugby from making a mistake that may "freeze" him forever?
The special is split into seven parts - to see each part, click on each link below.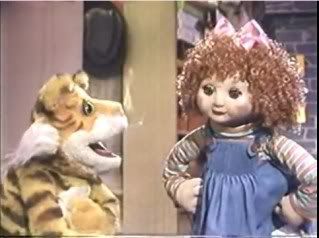 As an added bonus (because it's Christmas and everyone deserves a special gift), I have also taken the opportunity to upload the original Kraft TV recipes that aired in lieu of actual advertising during The Christmas Toy. The special was sponsored by Kraft Foods. I can't exactly say the recipes were of the exceptionally good variety, but they were given a unique Kraft charm (all made, of course, with Kraft products).
This time around, click on the embeddable players below to watch the Kraft sponsorship plug, and then the Kraft TV Recipes that aired that evening. The third embeddable player features the only actual advertising to air during the special, promos for Perry Como's Christmas in San Antonio and John Grin's Christmas, both of which aired that evening following The Christmas Toy.
And for the interested, here are the recipes included in these segments (all recipes were featured in the December 6-12, 1986 issue of TV Guide):
Segment 1 - Strawberry Almond Bars, Yuletide Apple Dip, Cheddar Crisps, Festive Sandwich Tray (mmmm, processed cheese!)
Segment 2 - Gala Dip (mmm, processed cheese spread!), Festive Chicken Wings, Tangy Topped Potato Rounds
Segment 3 - Colorful Cheese Apple Dip, Hearty Meatball Sandwiches, Cheesy Zucchini Casserole, Marinated Vegetable Salad
Segment 4 - (New Year's Eve) Apple Tart, Cappuccino Cheesecake, Chocolate Orange Mousse
I can't believe Christmas is here...and it seems that the month we spend preparing for the holiday leads up to a big letdown when everything is over. It's actually kind of sad when everything is over.
Here's to a wonderful, safe, and healthy Christmas and the happiest of New Years. I have two recaps currently in the working stages, and both will be posted very soon.
And, if you're feeling empowered, feel free to watch some Christmas-themed commercial breaks I dug up from the same tape The Christmas Toy was contained on. They're organized in a playlist on You Tube, just click the link above to see them. And remember, when on You Tube, feel free to leave feedback.
On behalf of myself and the website that bears my name, have a very Merry Christmas!