Looking to try a craft project that suits the least crafty, tastes fantastic, and is cost-efficient for this economy? In seven simple steps, I will teach you how to make Valentine's Day candy. These steps can also be applied to various other candy molds that stretch across virtually all holidays and seasons (except St. Patrick's Day - darned if I can find a shamrock candy mold!).
What You'll Need: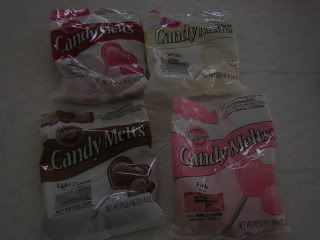 Candy Melts
The most important aspect of candy making is the purchase of candy melts. I prefer Wilton for their quality and price. At the craft supply store I purchase from, a bag of candy melts averages $1.99 to $2.99. Best bet – check with your local craft supply store to see what they carry and how much it costs.
Suggested Candy Melt Colors:
Pink
Red
White
Cocoa (I use Light Cocoa because it's the chocolate flavor I prefer, but Wilton also makes a darker cocoa for dark chocolate fans)
Also, some quick information about colored candy melts – these candies are vanilla-flavored, not white chocolate. This is an especially welcome treat for that special someone who may have a chocolate allergy. I had a chocolate allergy as a teenager, and vanilla flavored Valentine's candy would have been a welcome treat. And they all come in 14 oz. bags, so you'll always have plenty for what ever the occassion is!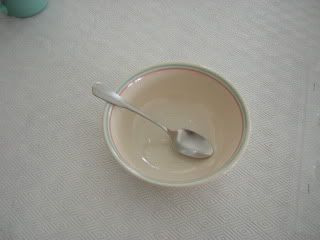 Microwave safe bowls - 1 for each color
Spoons - One for each candy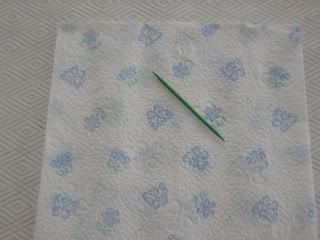 A toothpick - For making marble candy
A napkin - To clean candy off the toothpick for re-use in swirling
Plastic Candy Mold - Once again, check your local craft supply store for the types of candy molds they carry. I prefer Wilton for their price and variety. This is your basic Valentine's Day candy mold, but I also found a mold to make puckered lips. My local supply store stocks candy molds for $1.99, which is a great price for the plastic molds. This particular tray has 15 individual cavities on it.
Storage Container(s) -Any type of container will do if you plan on giving candy as a gift. I bought these decorative Valentine's Day-themed plastic bags for the candy I made for my brother and sister-in-law. Containers vary in price, and are based on the consumers' preferences. Since it is my goal to keep this activity inexpensive, I bought the plastic bags.
And How to Make Candy…
Step 1: Directions for Melting Candy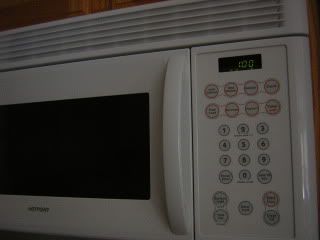 1. Place candy melts into microwave safe bowl. I don't suggest an amount, but I find 15 melts to be enough. Use what you need depending on how many molds of each color you plan on making.
2. Microwave each bowl for 1 minute on 50% power.
3. Microwave for 30 seconds on 50% power as many times as needed until the candy is easy to stir and completely melted – there should not be any lumps in the melt. I have a microwave that was installed in my townhouse in late 2008, and it takes 2 additional 30-second rounds to melt the candy completely.
4. Candy will not have a melted consistency upon removal from the microwave – stir the melts until smooth and creamy.
Step 2: Place candy mold on flat surface, preferably on a kitchen table or counter.
Step 3: Using a spoon, drop a small amount of melted candy into plastic cavities, ensuring that the entire area is filled generously, but not overflowing. I found decorating bags at the supply store, but they were almost $10 for less than 5 bags, and my setup cost slightly more than $12. Therefore, in keeping costs down, I find using spoons to be effective and cost-efficient.
Step 4: Directions for Marble Candy
1. Pick 2 colors to mix together. Place small amounts in empty bowl.
2. Using a toothpick, gently stir the two colors together. A few quick stirs are effective.
3. Using a clean spoon, scoop marbleized candy into empty cavity and spread generously, filling entire cavity.
Step 5: Once the cavities of the candy mold are filled, place in the refrigerator for at least 1-2 hours. I've found through practice that one hour in the refrigerator results in perfectly-molded candy. Times may vary depending on the temperature of the refrigerator, but both my basement and kitchen refrigerators effectively cooled and hardened the candy in 1 hour. I do not recommend freezing the candy.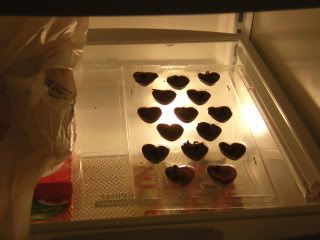 Step 6: Remove candy mold from refrigerator, and pop candy out of each cavity.
Step 7: Place candy in any type of storage container, such as the plastic bags or a gift container. Your creativity makes your gift special and unique.
Total Cost for My Supply Purchases:
Candy Melts: Pink, Red, Light Cocoa, and White - $1.99 per bag (all purchased at sale price)
Candy Mold Tray – Hearts: $1.99
Decorative Plastic Bags (15 in box): $1.49
Total Cost (with 7% New Jersey Sales Tax): $12.24
And there you have it, a fun hobby that can be extended into virtually any season and holiday (except for St. Patrick's Day – I cannot find shamrock molds for the green candy I bought at Christmas time!).
I based all of my pricing on my local craft supply store, Michael's. Be sure to check with a local store (or perhaps Michael's if a location exists in your area) for pricing and product availability. For more information on Wilton products, click on "Wilton."
For a demonstration video on how to make the candy, click here.
On behalf of myself and Allison's Written Words, have a wonderful Valentine's Day. As always, comments are welcome on my Live Journal page!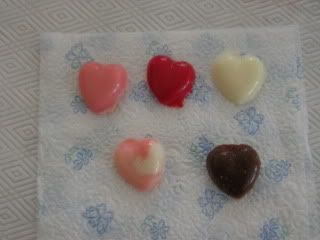 Thank you for visiting, and Happy Valentine's Day!